The Ramadhan Effect: How Online Shopping Behaviors Change During Holy Month
The Ramadhan Effect: How Online Shopping Behaviors Change During Holy Month
The Ramadhan Effect —Every year, Muslims around the world observe the holy month of Ramadhan, a time for spiritual reflection, prayer, and fasting. Ramadhan also marks a significant shift in consumer behavior, particularly in online shopping. Let's take a closer look at how Ramadhan affects online shopping behaviors and what trends we can observe.
We observed an increase in visits to e-commerce platforms during Ramadhan compared to the previous month. This increase in online traffic is likely due to the surge in online shopping activity during the holy month.
Generally, new customers who join during Ramadhan have a 16% higher basket size than existing customers. This trend is consistent with the abundance of promotions and discounts offered during the holy month, attracting new customers to make larger purchases.
Interestingly, during promotional periods, men tend to have higher basket size compared to women. On normal days, women tend to have a higher basket size. This suggests that men may be more inclined to take advantage of promotional offers and buy more during Ramadhan.
The usage of e-wallets doubled compared to normal days. More customers are opting for alternative payment methods, indicating a need for greater flexibility in the online shopping experience.
Overall, customers made more transactions and spent more during Ramadhan compared to normal days. Ramadhan brings about many reasons for people to shop, and it's not just because of the discounts offered. In addition to the promotional sales, many people receive Tunjangan Hari Raya, a holiday bonus given to employees in Indonesia, which allows them to have more purchasing power during the season. Furthermore, many individuals like to purchase new clothing and other items to celebrate the festivity. Merchants can expect a significant increase in spending during this period driven by practical and emotional reasons.
During Ramadhan 2023, many people from Medan chose Penang as their travel destination. Penang has several tourist attractions making it a popular destination in Southeast Asia. One of the top attractions is Georgetown, the historic capital city of Penang, which is known for its colorful street art, museums, and historic buildings. Penang is also famous for its food, and visitors can take a food tour to explore the delicious local cuisine. Overall, Penang offers a mix of cultural, historical, natural, and culinary experiences that cater to every type of traveler.
There are some considerable changes in product preferences during Ramadhan. For instance, Marjan Syrup was the top item in the express delivery category, with customers often combining it with other items like other flavor syrups or instant noodles. Many people like to have syrup on hand for various cooking and baking needs during Ramadhan. With express delivery, customers can easily purchase and receive it at times that are convenient for them. In the Groceries & Spices category, sugar emerged as a top item, competing with other popular Ramadhan items.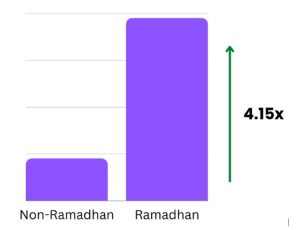 Daily Marjan Syrup Contribution to Groceries Order
During Sahur, the pre-dawn meal before the daily fast begins, we observed a 2.2X increase in online shopping sessions compared to normal hours. Customers were more active during the 4-5 AM period, with an uplift in orders. Fashion Muslim was particularly popular in Aceh, however, during Sahur spending per customer is twice as high in Gorontalo compared to Aceh.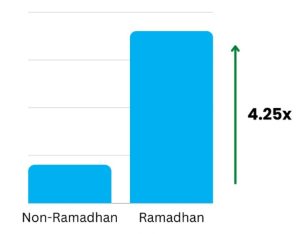 Purchase during Sahur (4-5 AM)
Overall, these insights show that e-commerce platforms in Indonesia can adapt to the changing needs and preferences of consumers during the festive season. From attracting new customers to offering promotions and catering to specific product categories, e-commerce platforms are playing an important role in making Ramadhan shopping more convenient and accessible for Indonesians.